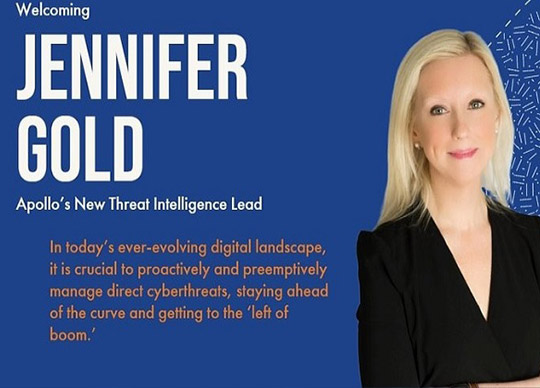 Apollo Information Systems has appointed Jennifer Gold as the new head of Apollo's Threat Intelligence practice.
Ms. Gold brings over two decades of experience in global technology solutions and cybersecurity to her new role at Apollo and has a proven track record of innovating and implementing scalable solutions, securing digital assets, and proactively defending enterprise networks and data from cyberthreats.
Jennifer will be responsible for leading the growing threat intelligence team which houses the company's threat monitoring, analysis, and response specialists.
Jennifer is a thought leader, board member, and well-known public speaker actively involved in the technology community, possessing a vast public and private network. She is the president and board chair of the New York Metro InfraGard Chapter, the public–private partnership of the FBI, and a co-founder and co-chair of the National Artificial Intelligence and Cybersecurity ISAO. She is a member of the Cyber Auxiliary of the United States Marine Corps, certified in cybersecurity by the Global Cyber Institute and UCLA, and holds a Data Privacy Solutions Engineer certification (CDPSE).
"Jennifer's vision for security in today's world is so closely aligned with Apollo's that we know her vast experience will help take our growing team to the next level," said Apollo President Dave Tyson. "Jennifer's knowledge of the threat landscape and viable approaches to mitigating risk within that landscape will help us to continue our commitment make the world safer."
Jennifer Gold said, "I am honored and excited to embark on my journey as Apollo's new head of Threat Intelligence. In today's ever-evolving digital landscape, it is crucial to proactively and preemptively manage direct cyber threats, staying ahead of the curve and getting to the 'left of boom.' Apollo is at the cutting edge of revolutionizing cybersecurity intelligence. With immense gratitude, I join this exceptionally talented team as we work together to create a safer digital ecosystem for everyone."