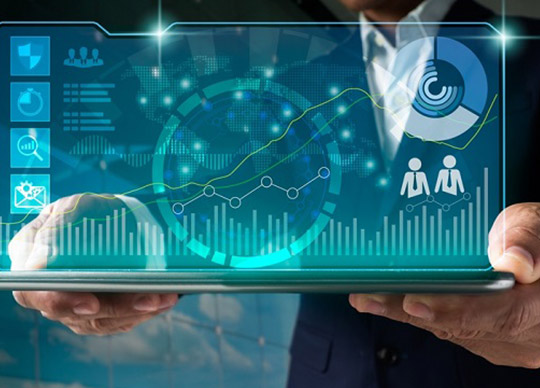 Total spending on cybersecurity technologies remained robust in Q4 2022, with strong channel-led sales making up for the decline in direct sales.
The market grew 14.5% to US$19.6 billion, which was in line with Canalys' best-case forecast. Spending on cybersecurity technology through the channel grew 16.2% to US$18.0 billion, accounting for 91.8% of the total market.
Direct spend between customers and vendors, which represented the remaining 8.2% of the market, declined 1.8%.
For full-year 2022, total spending on cybersecurity technologies increased 15.8% to US$71.1 billion, while spending through the channel grew 16.1% to US$64.6 billion, accounting for 91.0% of the total market.
In the latest quarter, network security was the largest category by revenue, growing 8.9% to US$5.4 billion. Spending on vulnerability and security analytics increased by 18.2% to US$4.2 billion while identity access management grew 15.6% to hit US$3.7 billion.
According to Canalys, the largely upbeat results are offset by increasing IT budget constraints that have forced customers to prioritize projects, while additional layers of scrutiny further extended sales cycles.
The leading vendors jostled for position in the highly fragmented market, in which the top 12 cybersecurity vendors accounted for 47.1% of total spending during the quarter.
Palo Alto Networks remained the leading vendor in Q4 2022. Fortinet moved ahead of Cisco, after shipping more of its mid-range firewall order backlog.
Check Point came fourth, though CrowdStrike continued to close the gap. Okta and Microsoft also made gains.
"Customer organizations continued to step up investments to improve their cyber resiliency. Lengthening sales cycles, maturing hardware refresh programs and prioritization of spending will slow down growth in 2023," said Matthew Ball, Chief Analyst at Canalys. "However, cybersecurity remains a priority.
Secure services edge, identity access management, cloud security and modernization of security operations centers remain areas of focus."
"The largest and most successful cybersecurity vendors have used 'land and expand' sales strategies to scale over the past two years and take a larger share of total cybersecurity spending," added Ball. "The development of cybersecurity platforms, by building or acquiring new functionality accessible via subscriptions, have enabled them to land new customers with specific capabilities and expand within accounts through add-on modules. The mix has shifted more towards expansion over the last two quarters."
This places the top cybersecurity vendors in a stronger position to weather the economic downturn and capitalize on customers consolidating their vendor relationships to reduce costs.
"But this has also increased average deal sizes, which, in part, contributed to the greater scrutiny of projects and longer sales processes," added Ball. 
North America continued to dwarf the other regions in overall cybersecurity spending, growing 16.3% to reach US$10.2 billion in Q4 2022, representing more than half the global market.
Cybersecurity will be a key theme discussed at this year's first-ever Canalys Forum North America, which will take place in Palm Springs, California on 13-15 November 2023.
In Q4 2022 Europe, Middle East and Africa was the second-largest cybersecurity market where pending was up 12.9% to reach US$5.9 billion. Asia Pacific rose 11.2% to US$2.7 billion and Latin America grew 14.4% to US$690 million during the same time period.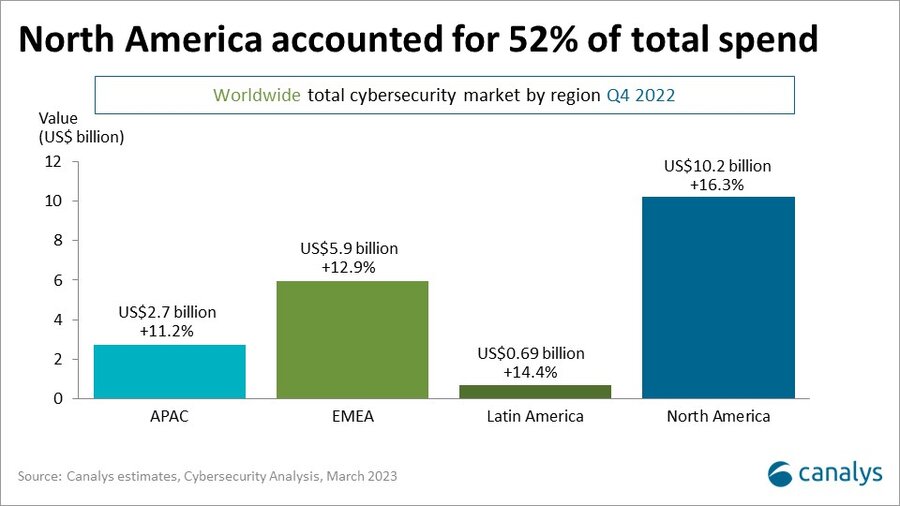 Senior channels and cybersecurity analysts from Canalys will be attending RSA Conference 24-27 – get in touch to arrange a meeting.