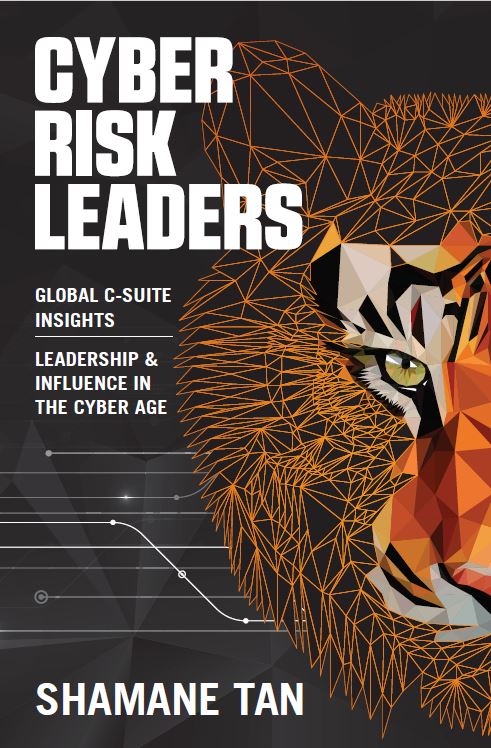 SINGAPORE, 16 July 2019:  CYBER SECURITY BOOK LAUNCH. 'Cyber Risk Leaders: Global C-Suite Insights – Leadership and Influence in the Cyber Age', by Shamane Tan will be formally launched and available for signing at RSA APJ Conference, 16 – 18 July, Marina Bay Sands Convention Centre, Singapore.
Cyber Risk Leaders is a laborious product of careful selection and compilation of the best stories and wisdom from over thirty C-Suite executives. Shamane spent several years speaking to CxOs from different industries, and all over the world, from Australia, to Singapore, Israel, the US and the UK, to bring different aspects of successful leadership to life in this unique book.
Shamane is the APAC Executive Advisor at Privasec, a leading independent Security Consulting Firm in Australia and Singapore and Founder of the Cyber Risk Meetups, meeting across Australia and Singapore.
Shamane explores the art of communicating with executives, tips on navigating through corporate challenges, and reveals what the C-Suite looks for in professional partners. For those who are interested in learning from top industry leaders, or an aspiring or current CISO, this book is gold for your career. It's the go-to book and your CISO kit for the season. 
REVIEWS
"This large and diverse group paints an interesting narrative of the state of play in enterprise cyber risk." Foreword by M.K. Palmore, Retired FBI Assistant Special Agent in Charge, FBI San Francisco Cyber Branch
"With experience and insight, Shamane has written a really useful book for existing and aspiring CISOs. I loved her unique voice, highly readable style, and wholeheartedly recommend this book." CEO, Cyber Security Capital (UK)
"She has explored many topics long considered on the fringe of traditional security with great storytelling and insights from industry leaders." CISO, Telstra APAC
Shamane is scheduled to present at RSA APJ Conference on Thursday 18 July at 10:05am in the Peony Room 4411 where she will formally release the book and present the book's findings. Shamane will be available for book signing following the session at the ICE71 stand.
'Cyber Risk Leaders: Global C-Suite Insights – Leadership and Influence in the Cyber Age', by Shamane Tan will be launching in Sydney, Australia on 31 July. Link https://www.cyberriskmeetup.com/cyberriskleaders
For interviews, extracts or further information please contact:
Chris Cubbage
MySecurity Media
Ph: +61 (0) 432 743 261
Email: ccubbage@mysecuritymedia.com
Twitter: @ShamaneTan @AustCyberSecMag @MSM_Marketplace #CyberRiskLeaders #CyberRiskMeetup
Linkedin: linkedin.com/in/shamane #CyberRiskLeaders #CyberRiskMeetup