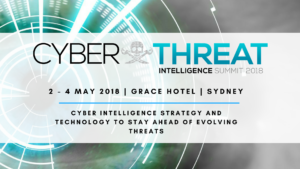 Cyber Threat Intelligence Summit
2 – 4 May 2018
Grace Hotel | Sydney | Australia
CYBER INTELLIGENCE STRATEGY AND TECHNOLOGY TO STAY AHEAD OF EVOLVING THREATS
Today's cyber criminals are able to achieve their aims using increasingly advanced tools and techniques designed to get around most network defences, go undetected during the intrusion, and then remain hidden on networks over long periods of time.
As such, it is essential for organisations to understand how they can effectively utilise threat intelligence to influence their cyber security strategies.
Cyber threat intelligence (CTI) provides defenders an advantage, using information superiority to prepare and respond, reducing adversarial success rates.
The Cyber Threat Intelligence Summit will bring together top experts and practitioners for in-depth threat intelligence talks, and exclusive networking opportunities.
It's where cyber security and threat intelligence leaders, technology leaders, incident response and risk & compliance leaders will come together to Learn how to keep ahead of attackers by leveraging threat intelligence
By attending this event, you will learn:
How to keep ahead of attackers by leveraging threat intelligence
Examples of international collaboration/intelligence sharing between public and private sector to counter advanced attacks
Discussions on how large organisations in US, ASIA and Australia have developed intelligence-led approaches to their cyber security operations
How to use threat intelligence to accelerate incident response time
Examples on how to build the internal competency/teams required foradvanced threat detection and incident management
How to integrate security operations with threat Intelligence
The importance of CTI as part of a broader risk management approach 
Maximise the potential of threat intelligence platformsto protect your organisation
We have assembled a fantastic panel of over 25 international and local expert speakers to help you, including:
Paul Ward,Assistant Director, Cyber Fusion Center, INTERPOL
Paul de Souza, Founder and President, Cyber Security Forum Initiative USA
Manan Qureshi, Head of Cyber Resilience,Riyad Bank
Sandra Ragg, Head, Office of the Prime Minister's Cyber Security Special Adviser, Lead Cyber Resilience Taskforce, Department of Prime Minister and Cabinet
Fred Thiele,Chief Information Security Officer, Velocity Frequent Flyer
Chris Mohan, General Manager – Security Controls & Threat Research and Intelligence,Telstra
Damien Manuel,Cyber Security Research and Innovation Centre (CSRI), Deakin University
Teresa Harding, Manager Cyber Threats, BankWest
Ty Miller,Director, Threat Intelligence
If you register before the 23rd February you can save up to $500. Book as a team and save up to 25%! 
Click here to register, or call the booking hotline on +61 (0)2 9977 0565.