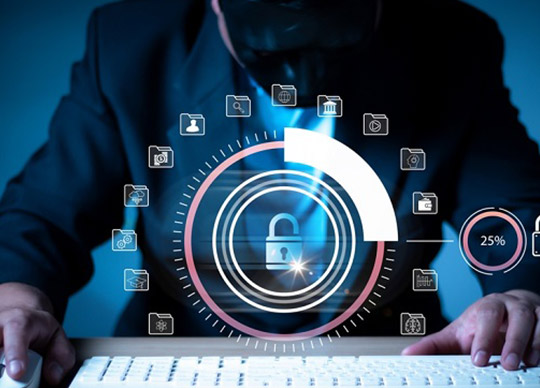 The worldwide cybersecurity market grew 12.5% year on year in Q1 2023 to US$18.6 billion, outpacing the rest of the tech sector despite worsening macroeconomic conditions.
Palo Alto Networks grew 23.6% in Q1, extending its leading market share to 8.7%.
Fortinet also increased its share, by 26.2%, to reach 7.0%.
Cisco lost ground, growing just 1.4% as it cleared its firewall order backlog, but acquisitions and new platform launches will boost its performance.
CrowdStrike grew 39.9% to move into fourth position ahead of Check Point, which grew 4.2%. Okta (+26.4%) and Microsoft (+32.3%) also gained share.
"Customers prioritized spending on the most urgent projects and those that delivered the greatest return. Longer sales cycles, delays and downsizing of projects increased, while hardware refresh programs have been pushed to future quarters," said Matthew Ball, Chief Analyst at Canalys.
Results were in line with Canalys' best-case forecasts. Identity security (+14.3%) remained a high priority, as well as securing hybrid workers, which drove investment in SSE within web and email security (+16.0%).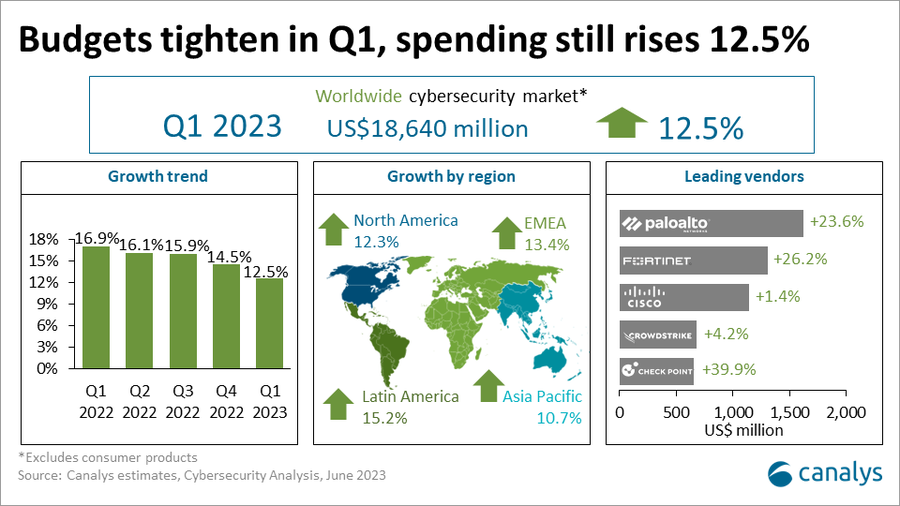 Growth was fastest among larger customers, despite increased scrutiny of all spending. Sales to end-customer companies with 500+ employees (large) grew 13.3%.
There was growth of 13.5% for companies with 100 to 499 employees (medium-sized).
Palo Alto Networks was the number one vendor for large and medium-sized companies.
Meanwhile, cybersecurity sales to companies with 10 to 99 employees (small) grew 7.5%, and to businesses with 1 to 9 employees (micro) 4.3%.
Endpoint security vendors, including Trend Micro, Trellix and other regional vendors, continued to drive most spending with small and micro businesses.
The top 12 cybersecurity vendors accounted for 48.6% of total customer spend during the quarter.
The rest of the market remained highly fragmented.
The leading vendors continued to increase their share of total spend, especially those with platform strategies, as customers consolidated multi-point products to cut costs.
Price rises also contributed to growth in key market segments, including network security (+9.0%).

"Results from the largest cybersecurity vendors showed enhancing cyber-resiliency remained a priority for most organizations, despite ongoing macroeconomic challenges and greater IT budget scrutiny," said Ball. "But they also showed cybersecurity will not be fully immune to budget cuts in 2023. Competition between vendors will intensify, though most will grow by upselling additional subscriptions to existing accounts. Spending will continue to be heavily scrutinized throughout this year."
Other trends affecting the cybersecurity ecosystem are outlined in the recent Canalys report, "Now and next for the cybersecurity ecosystem in 2023".
North America was the largest market for cybersecurity during the quarter, growing 12.3% to US$9.7 billion. But the region had the sharpest slowdown from the previous quarter, with collapses and uncertainty in the United States banking sector a key factor. EMEA grew 13.4% to US$5.8 billion, Asia Pacific increased 10.7% to reach US$2.5 billion and LATAM grew 15.2% to hit US$660 million.