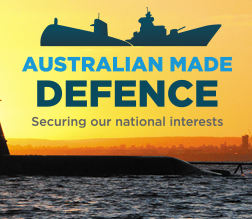 The Australian defence industry welcomes the Federal Government's release of the Defence White Paper, the Integrated Investment Program (IIP) and the Defence Industry Policy Statement released this morning, committing to delivering twelve submarines and nine future frigates.
Chris Burns, national spokesperson for the Australian Made Defence campaign said the Federal Government's announcement is a significant vote of confidence for the defence industry.
"We have the local shipyards, skills and workforce to deliver Australia's naval shipbuilding requirements. Today's announcement shows the Federal Government is ready to partner with industry to deliver key capabilities for Australians," said Mr Burns.
"For the first time ever, the Defence White Paper is accompanied by a fully-costed Integrated Investment Program that gives industry certainty into the future – this is certainty the defence industry hasn't had in decades.
"The strong commitment to Defence demonstrated in this morning's announcement is a huge positive for industry and its workforce that have been doing it tough for years.
"The economic benefits resulting from the extensive spending growth to 2 percent of GDP by 2020-2021, will be spread across the states to deliver employment, certainty and prosperity – and not just to the defence sector but by fostering growth, agility and innovation across a whole variety of sectors.
"A strong defence industry will provide the support our Defence Force needs to deliver for the Australian community.
"Unfortunately this morning's announcement has not been explicit about the location of the build of Offshore Patrol Vessels.
"Industry has already affirmed its position on OPVs and that it supports the Government's RAND Report. The report outlined that if OPVs were built in the same location as Future Frigates, taxpayers would receive efficiency savings to the price of 'four free boats'. It's a no-brainer that we should deliver."
Although the announcement committed to a continuous build of naval surface ships, it has not yet committed to the same for submarines, describing it instead as a commitment to a "rolling acquisition program" for submarines.
"The announcement hasn't committed to build our future subs on our shores due to the ongoing Competitive Evaluation Process. Australia currently has the skills and the shipyards to deliver our subs but needs commitment to a local build.
"Industry needs a tangible plan to invest upfront in the resources that will provide for Australians and their Defence Force. To achieve this, we need clarification on how the Government intends to deliver the biggest defence infrastructure project: our Future Submarines.
"Industry looks forward to working with the Federal Government to implement the program announced today.
"We commend the Federal Government and the Minister for Defence, Marise Payne on the visionary approach to defence acquisition and look forward to getting further clarification on the next steps," said Mr Burns.