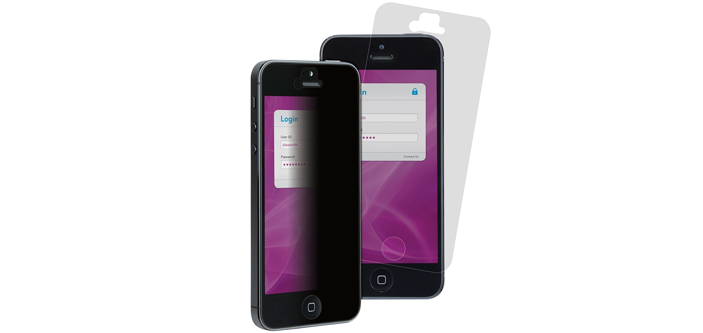 Courtesy of 3M I had the opportunity of applying the 3M Privacy Screen Protector to my iPhone5. Result? Recommended!
The Screen Protector was very easy to apply (no bubbles either) and thought instantly "I wish I'd had this on my phone from the start!" – not only does it protect my screen from scratching, it surely protects the screen from excessively chipping or cracking if dropped – not that I'm going to try that but who hasn't dropped their phone!
In terms of added privacy and security it is quite evident that this is a very suitable product for anyone not wanting the "eye over your shoulder" snoop reading emails, texts or viewing private pictures. Ideal for buses, trains, planes and any close quarter public place to eliminate risk of revealing confidential information to those around you.
Using 'microlouver technology' the protector lets you clearly see the information on your screen while people at your side can only see a darkened surface. When you want to share it's just a case of tilting the device to a landscape mode. Ideally suitable for any public transport user, seasoned traveller or operatives in the security or intelligence business. ·
Product Highlights
o   Clearly view the information on your iPhone while people around you only see a darkened screen
o   Change device orientation to landscape mode to share when needed
o   Easy application and residue-free removal
o   Protects your screen from scratches
o   Stay-clean edges prevent build-up of dust and grime
o   Matt surface reduces glare
3M Privacy Solutions are available for tablets, laptops, desktop displays and the iPhone 6 (x2 versions) is soon to be released – visit http://www.3Mscreens.com