"First comes the purpose then comes the product…" explained Dr. Christian Busch, Associate Director, Innovation and Co-Creation Lab, London School of Economics, as he opened the APAC NetEvents Press & Analyst Summit with a keynote address on innovation. "If a company is able to provide a setting where they're actually working on real challenges, real problems, real society problems, that's actually where people will be most attracted to, particularly probably also in a poverty context or context where traditionally people wouldn't have thought to build consumer or producer bases in."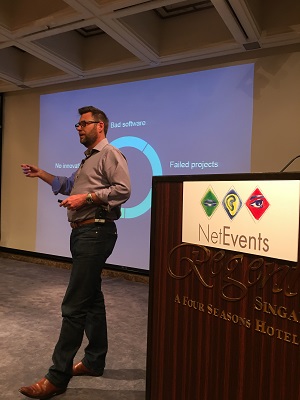 For Anaplan's Grant Halloran, an Australian now based in Silicon Valley, "It's more about thinking from a customer perspective. So if you're an IT leader today your customers are the business folks, running the company, right from the CEO through to the lines of business leaders. What are the services, from a technology perspective, that these folks need, to get their job done and to achieve the vision of the company over the long term? So that's the starting point."
Despite the drive and purpose of innovation, Nikhil Batra, Telecom Research Manager for IDC, highlighted the Ashley Maddison breach as a notable case study of the risks involved. As a result of this breach a lot of company CEOs stepped down. There were class action law suits against the company, so much so they announced a reward for $500,000 dollars for somebody to share information on the hackers. But nothing came out of it. One interesting statistic that came out, is that one of the security companies that laid their hands on all of the data claimed to have broken down 11.2 million passwords within 10 days. And surprisingly enough that the most popular password was 123456, which 120,000 accounts had this password in the database. This should make us think how secure is a service and how much should cloud providers emphasise and provide security to the enterprises?
There was a time when the worst thing that could happen to us is a malicious code or a bug would result in a blue screen of death and we would just restart our PCs and get on with it. But now we are getting into an era of IoT and connected things, where things like the connected car is being hacked. A Jeep Cherokee was hacked in late 2015. What these cases demonstrate is that all of the connected things today that we have, be it a smart refrigerator or a smart edge-ware controller or an air conditioner controller, they're not secure enough. We have had phishing incidents where the email has been coming from a smart refrigerator. Unless we apply 'security by design' then we will continue to create insecure systems, devices and connected things.
Empowering SMEs with Cloud Services
The IT market is seeing the telecommunication carriers start to offer services and solutions and the model being preferred is open source, but that doesn't mean generic. The reality is that if you're an enterprise you are going to look to a partner to package up the open standards which makes it easier to deliver your service.
Digital transformation to improve business processes through technology is not just for large enterprises and the real opportunity is in the ability to transform smaller enterprises (SMEs). Cloud is an opportunity but demands from vendors a new way to engage with SMEs. The contribution of smaller organisations to a global market is that they stand on their own in contributing to cloud service revenues. The problem is how to reach the smaller organisations, as carriers realise they need to change how to do business. Be it agriculture to professional services to retail, SMEs are realising they are losing out because they are not working effectively with technology.
SMEs represent well over 90 percent of all businesses in Asia. Across 14 countries they employ some 1.02 billion people and contribute around $10.9 trillion directly into the economies in which they are based. They also spend significantly as a group on ICT. While the vast majority of the ICT spend is on traditional communications services such as mobile voice, fixed-line and broadband, the growth is increasingly in cloud, virtualization, remote and applications services.
According to analyst estimates, SMEs spent about $2 billion on cloud services in developed and emerging Asia Pacific in 2014, with the growth rate for cloud services for emerging Asia Pacific running at around 42%. But these statistics all appear to underrepresent and underplay both the opportunity and the impact of cloud computing services on the SME landscape across Asia. Reference: Asia Cloud Computing Association, SMEs in Asia Pacific: The Market for Cloud Computing 2015
Over time what we have seen is trust is increasingly challenged and there is no front runner in terms of SMEs trust of their technology service provider. Most small businesses in terms of cloud services are buying on a self-serve basis, but they need assistance. The other problem is the different type of demographics and a largely proportional lag by self-employed and micro businesses. It is even more difficult to reach out to micro businesses.
MyRepublic, soon to be the four largest Telco in Singapore, with offices also in NZ, Australia, and Indonesia commissioned a study into what is it that SMEs are looking for from cloud providers and what's holding them back. The study found that despite initiatives, such as income tax off sets, many SMEs are too busy on a day to day basis to tap into the benefits. The richest and most supportive government in the world is in Singapore and there is funds being made available. There is $500M to offset the cloud adoption, with up to 80% of about 10,000 businesses having benefited, but there is over 200,000 SME companies. Educating SMEs not just about technology but also tapping into the potential grants the government can assist them with.
IoT Stress Testing Components: Compatibility, connectivity, performance, exploratory, security, functionality
Software defined networking is rapidly evolving with edge analytics beginning to extract and optimise the data that is sent back to the Data Centre for analysis. As an example, for a hotel chain, discovering the many edge points requires consideration to the need for each hotel branch optimisation, from the server and router to single appliances and the capability of collecting the data at each hotel branch. Hotels demand that they operate uninterrupted and with branch optimisation, they should have on premises computing capability and should not suffer any disruption. Transactions will continue regardless if there is a network outage. If there is an outage, the data will be transferred when reconnected.
With IoT application metrics, the measures, transactions, analytics, data, and the customer can be set up with rules in different ways. Data will be of a transient nature and the infrastructure is application ready and easy for the customer to switch on or switch off services as required. We have standardised application lifecycle platforms onto the cloud and this can extend all the way to the hotel branch and the users within the hotel. When they login they see a catalogue based on the active directory and what apps, price and allows them to pick and choose apps seamlessly. These conveniences will overcome security inhibitors to cloud adoption.
Latency and priority routes remain a big issue and service delivery is at the heart the challenge. Much like we can set aside road traffic for a medical emergency, and same thing is in IoT, so too do we need to have a special route available on the cyber roads and highways which are capable of stopping traffic if necessary. It should form part of the design in the interests of public safety and mission critical system integrity and reliability.
With any public system there are those who will seek to compromise it. A case from Johannesburg involved thieves targeting over 400 traffic light sim cards, which had been installed as part of a networked traffic management system. The sim cards were then used to access online services at a cost of $1.2M.
Despite with what has been observed and the increasing amount of investment in security, the confidence in CISOs is still relatively low. Many enterprises are still waiting to see if something will happen. The sad part in these cases of security breaches, it is often as a result of inadequate testing. The estimates of the losses is not known for some time and the loss is not immediately known. If there is a cyber-crime where passwords and accounts are stolen, they can be used by multiple groups, multiple purposes and the consequence of the loss can be long and complex. Enterprises need to take active steps to ensure security of their networks. Unless regulators step in to force enterprises to report breaches and the results then it will never be known.
HOTTEST TRENDS FOR GLOBAL TELCOS
Telcos (Telecommunication Carriers) have all been reporting increased in EBIT and there has been selective movement on specific virtual network functions (VNFs) with the return on investment questions still being asked. Telcos recognise that software defined networking and mission critical use cases are emerging. Enterprises also need to understand who is the cloud provider. Telcos were slow to emerge but now as the type of applications moving to the cloud are becomign more mission critical, and managing multiple cloud environments is required, then the network increasingly becomes important.
Mobility has been taken for granted and there has recently been less focus on mobility with it being all but played out. The market is now preparing for 5G and Long Term Evolution (LTE) and the interest is back to B2B to drive revenues. LTE provides significantly increased peak data rates, with the potential for 100 Mbps downstream and 30 Mbps upstream, reduced latency, scalable bandwidth capacity, and backwards compatibility with existing GSM and UMTS technology. The next wave is 4.5 – and from 4G to 5G there will be more connection of everything. Few are talking about 4G standards needing to be ready but others are already talking about 5G. There is a lot of challenge and a lot of opportunity.
The term telco may be extinct in 5 years as they may not own everything but they do conduct it. The very nature of the telco business is to connect people. Telcos will still need to innovate and discover what are the new business models and how telcos are going to be involved with what were previously long term capital investments to now needing to be nimble and agile. An example is how BT services the Williams Martini Racing Formula 1 team, by delivering new innovative business level services, on top of offering network services.
In Asia Pacific, Colt services high frequency traders and has to deliver ultra low latency transactions and high performance networking capabilities. They use a licenced 100G network service in Japan is now offering terabyte services on the cloud provider side, with the cloud providers and OTTs driving other traffic for enterprises and customer mobile traffic. This follows a massive investment in physical resources and you don't now need your own dark fibre to get gaming quality exchange. A common need for gaming and content servers is the need for ultra-low latency which needs high capacity networked services. Another driver has been in mining companies, which having lost $10B in market value has seen cost reductions being brought forward. The demand came to replace a third of their operation staff, and in the process mining companies have fast become technology companies. The same trends are being seen in other sectors, such as finance.
Media and analysts were briefed across various vendors. Orange recently completed the acquisition of Lexsi through its Orange Business Services entity. Michel Van Den Berghe, CEO of Orange Cyberdefense said "Orange identified cybersecurity as one of its strategic priorities. With this acquisition, Lexsi, the Threat Intelligence Services1 company, bolsters our ability to detect, analyse and respond to the threat of cyber-attacks and positions us as a major player in this field in Europe." Orange Cyber-defense supports more than 600 companies in France and abroad. Lexsi had more than 400 active customers and 170 experts, including the largest independent incident response team in Europe.
Australian Security Magazine was further briefed on Cylance, Menlo, Dell, Ixia and Anaplan. Cylance has developed an innovative way of stopping malware before it ever executes, using a lightweight agent that predicts and prevents cyber threats using artificial intelligence and machine learning. About 3 million attributes of each file is analysed by special algorithms which are updated about twice a year. As Cylance expands beyond its initial Japanese and Australian engagement, the company has signed a further three new reseller partners in the Australian/New Zealand region.
Menlo Security announced that the Menlo Security Isolation Platform (MSIP) has been selected by Fujitsu as a key component of its Global Managed Security Service. Fujitsu is combining Menlo Security's technology with the Fujitsu Digital Business Platform MetaArc, offering gateway-type solutions that can automatically eliminate the risk of malware infection.
Ixia will integrate network visibility across private, public, and hybrid cloud environments by combining the Ixia's virtual network taps, packet and application flow filtering, Netflow with advanced application identification and geographic location, SSL decryption, and industry leading deduplication capabilities, Ixia's CloudLens platform provides service providers, cloud providers, and enterprises with unprecedented insight into network traffic in both physical and virtualised environments.