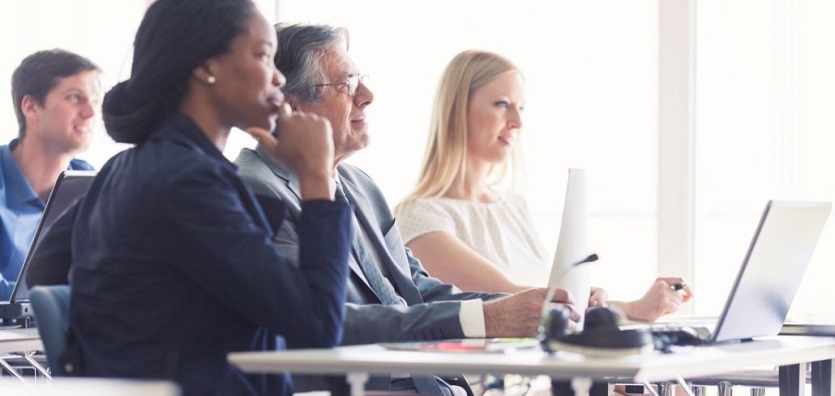 by Lizzie Damiano
Mention the word "security" to most people and the image that usually jumps to mind is the stereotypical image of active security –a security guard, perhaps doing their rounds of the building they protect, or CCTV cameras or other physical equipment providing tangible security. However, security as a profession is much more than just the hardware or tangible systems that secure the assets those systems are designed to protect; indeed, for security to be considered a profession, its practices must be based on a consensual body of knowledge and educational standards, with defined concepts that form this structured body of knowledge.
Security knowledge is structured and the interrelationships and interdependencies within its knowledge base is what allows for the achievement of regularity and consistency in its results. The need for security professionals to base their work upon such understanding and applied use of theoretical knowledge to methods of protection allows for a degree of prediction in their work, which in turn enhances their outputs. It is this knowledge of security theories and analysis that is the driving force behind the development of the security professional.
Today, the security professional is required to operate on an abstract service level, one which involves the practice of diagnosing specific concerns, developing a holistic protection strategy on a diverse range of projects/buildings, and designing and project managing the commissioning of complex engineered physical protection systems. Such complex tasks require an understanding of advanced technologies, analysis techniques, and communication skills to achieve their protection objectives in today's world.
Therefore, for quality work to be undertaken competently by a professional workforce, there must be individuals positioned accordingly within relevant organisations; individuals who are at the leading edge of both applied and theoretical security knowledge and who hold the ability to easily and readily transfer this esoteric knowledge. Where does an organization look for such employees that they can leverage off? The answer is simple – graduates. Graduates come packaged with all of these required attributes, offering your organization their ready access to the codified knowledge required to base their work on, an understanding of advanced technologies and analysis techniques, and excellent communication skills.
Overall, graduates are well placed to enhance your organization's security posture through their broad, well-structured educational basis of which they have been trained and developed in the most up to date technologies, theories, and best practice application of the knowledge domain of 'security'. This means that they will excel in the modern security landscape in the long term, acting as force multipliers and catapulting your organisation to the forefront of the rapidly changing security profession.
Security has the reputation, by professionals and laymen alike, as a 'learnt skill'. That is, the security professional begins at entry level within the organization and learns the skills and knowledge required for implementing holistic security outcomes for clients on the job as they go. However, this idea of security being a 'learnt skill' is a shortfall to those organizations operating with such an outlook and is effectively hampering the industry's ability to mature from an occupation into a profession. Such security practice at the professional level is not just a matter of common sense or extended practice; rather, it involves a complex body of knowledge incorporating specialized technical knowledge relevant to the design and maintenance of physical protection systems. In addition, knowledge directed towards engineering variables that are designed and applied within the system to systematically receive and defeat a dedicated adversary, all the while knowing how to manipulate the environment. It is this very core knowledge that graduates offer organizations, headlining the next level of maturity for the security industry as the current profile of the security profession undergoes significant change, transitioning into a dedicated profession.
Why Educate Security Professionals?
As the need for security has increased in the last 10 or so years around the world, dedicated teaching courses are now offered by universities, teaching security and engineering related knowledge. These courses specifically impart the necessary and complex underlying body of knowledge required for the security professional to operate at their best, in turn allowing those who undertake such study as educated security professionals to raise the standard of their hiring organization to a higher level.
One well-respected degrees offered within Australia is the Bachelor of Counter-terrorism, Security, and Intelligence through Edith Cowan University (ECU). This prestigious degree brings together the key aspects of security theories and knowledge required for the successful application by security professionals in their practice. The core elements of the theories underpinning security and intelligence are studied in the foundation year, with specialised security units taught in the following years. These units are focused on building not just the knowledge of the student, but on encouraging the application through real-life assignments and task work.
ECU's reputation for offering industry recognised courses and job-ready graduates is well-known, and graduates from their Security degree are no exception. This course is taught by lifelong professionals with extensive experience in the areas of their teaching, meaning that ECU Security graduates are handed the skills and knowledge they can immediately begin applying to real-world problems. Instantly, this boosts the output of the organization choosing to recruit graduates, as these graduates emerge from the degree being up to date with the latest changes in the security domain. By far, the biggest value of having graduates enter the security profession is the comprehensive knowledge, superior communication skills, and exceptional problem solving skills they bring with them, which in turn enhances the benchmark of their hiring organization.
In particular, ECU's Security degree is designed with the incorporation of a Work-Integrated Learning (WIL) placement that selected students can undertake in their final semester. This WIL placement allows students to apply their knowledge from the course in a real-world environment, as they are given real problems requiring innovative solutions. For example, recently several students from ECU's Security degree completed a three month placement with the operational security team at Perth Airport. The benefits of graduates having completed a placement like this prior to entering the security industry means that they have quality, real-world projects 'under their belt' and are even better equipped to enhance the status and operations of your organization through their transferable and ready access to a codified body of knowledge and well-developed research skills.
"Perth Airport and Edith Cowan University's Security Science faculty have developed a partnership via the Work Integrated Learning program. This partnership not only benefits Perth Airport, but also ECU and most importantly, the students themselves. For the first time in the aviation security sector, this program encapsulates the critical pillars with an airport and educational institution delivering world best practice in security outcomes with educating, developing and training the future leaders of our industry." –Tony Sewell, General Manager Security & Emergency, Perth Airport
One student who completed her WIL placement earlier this year at Perth Airport was tasked with solving a complex security problem that required the separation of certain areas of the airfield and assessed how a radar solution could be used. In so doing, she undertook complex background research and using the theoretical knowledge and skills gained through ECU's security degree, produced a comprehensive assessment report. The end product of her work was not simply shelved and forgotten about – both the operational security team and the outside security consultancy contracted to work on the larger project, of which her work was relevant to, ended up using her assessment and background research to guide their work on the project.
The Value Graduates Will Add
In many cases, those who have simply 'learnt on the job', often don't understand or see the need for applying the theories and methodologies behind security risk management and collating this information in a usable and readable manner. While these types of employees can still do their job and generate measures accordant with their expected outputs to get the job done, graduates bring the added bonus of having the theoretical underpinnings necessary in order for them to think holistically about the problem and engineer an appropriate security solution based on sound theory and best practice, resulting in undertaking the process in a more thorough manner which in turn yields higher quality results.
Graduates, particularly those who undertake placements as part of their degree, don't just bring better flexibility or a better way of thinking about security or better problem solving skills with them – graduates have transferable skills and will offer your organization their own, unmatched, personal drive, fresh out of a demanding degree, they are enthusiastic and offer an innovative perspective in conceptualising modern-day solutions required of the security profession. Graduates new to the security profession come with their own unique degree of objectivity, one that has not been moulded by organisational biases that inherently will be present in those who have previously worked in the security industry. Industries targeting graduates who have successfully completed a placement prior to graduation are those organizations that will reap the richest benefits, as they will intrinsically be expanding their organization's knowledge base through hiring individuals who can excel in the modern security landscape.
In today's world, the security professional is one who must match the demands of the fast-changing security industry while producing solutions that are atheistically pleasing to the consumer. The security industry today is fast maturing into becoming a profession, leaving behind its previous standing as simply an occupation. There is a fundamental need for organizations today to be embedding graduates into their organizational hierarchy, as graduates are able to implement security solutions based on sound theory and best practice that is defendable in argument. Failure of security organizations to reach out and seek such graduates will cause the security industry to remain as an occupation, rather than evolve into what should be realized as a profession.
The security industry is not just about throwing physical safeguards in protective rings around buildings or assets; the security industry and, indeed, the security professional, should encapsulate the knowledge and theoretical processes underpinning the application of security in order to produce the highest quality outcomes while simultaneously cultivating an advancement of the security profession's benchmark, moving the industry further from an occupation in pursuit of becoming a profession. Graduates offer your organization excellent leadership ability, superior communication and problem-solving skills, and most importantly, the required codified knowledge that can be immediately transferred into the security domain. The wise security organizations will be those who target Security graduates, affirming this maturity of the industry.