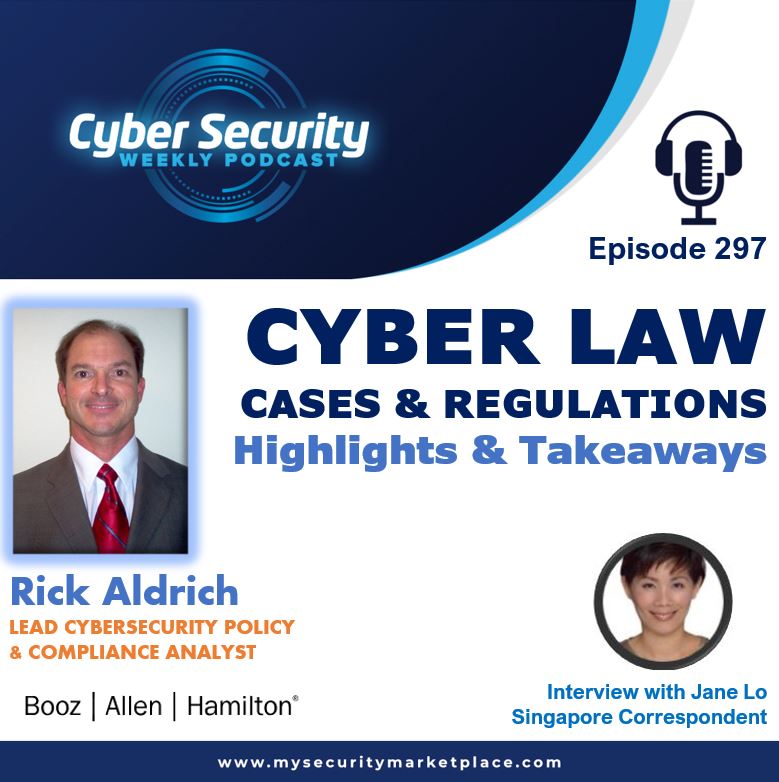 Jane Lo, Singapore Correspondent speaks with Rick Aldrich, Lead Cybersecurity Policy and Compliance Analyst, Booze Allen Hamilton.
Rick is a cybersecurity policy and compliance analyst for Booz Allen in its support to the U.S. Department of Defense CIO. Previously he spent over 15 years as an Air Force JAG (Judge Advocate General's Corp) specializing in cybercrime and information operations portfolios. He was recognized as the Outstanding Professor of Law at the Air Force Academy.
Rick has multiple publications, including a chapter on information warfare in a widely used textbook. He has presented at national and international conferences and is co-author of DoD's award-winning CyberLaw digital training product.
Rick has been awarded several grants by the Institute for National Security Studies to research the legal and policy implications of cybercrime and cyberwar. He holds a B.S. in Computer Science from the Air Force Academy, a JD from UCLA, and an LLM in Intellectual Property Law from the University of Houston.
In this podcast, Rick discussed highlights of cyber law cases and regulations in the recent years in United States in 4 areas: 
The U.S. Department of the Treasury's Office of Foreign Assets Control ("OFAC") – Advisory on Potential Sanctions Risks for Facilitating Ransomware Payments
The high-profile case of Mondelez International, Inc. v. Zurich American Insurance Co. litigation, and takeaways for organisations and cyber insurance companies
Attorney-Client Privilege and takeaways for cybersecurity professionals
Observations from recent class action lawsuits and settlement amounts
 Key takeaways from these developments highlighted could have important implications for cybersecurity professionals across the world.
Recorded: 16th November 2021 6pm (Virginia, U.S) / 17th November 2021 7am (Singapore)