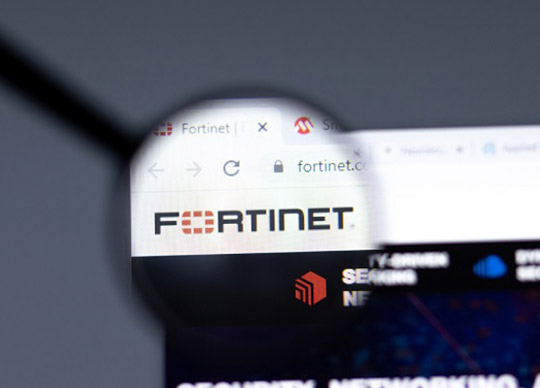 Fortinet has released FortiSP5, the latest in application-specific integrated circuit (ASIC) technology from Fortinet.
FortiSP5 delivers computing power advantages over traditional central processing unit (CPU) and network ASICs, lower cost and power consumption, and the ability to enable new secure infrastructure across branch, campus, 5G, edge compute, operational technologies, and more.
Ken Xie, founder, chairman of the board, and chief executive officer, Fortinet, said, "With the introduction of FortiSP5, Fortinet once again sets new industry records for performance, cost, and energy efficiency. As the only cybersecurity vendor leveraging purpose-built ASICs, an over 20-year investment in innovation, Fortinet delivers the secure computing power that will support the next generation of secure infrastructure."
With an application-specific design and embedded multi-core processors to accelerate the convergence of networking and security functions, FortiSP5 delivers:
17x faster firewall performance compared to leading standard CPUs.
3.5x faster next-generation firewall (NGFW) performance compared to leading standard CPUs to handle higher levels of traffic inspection to detect and block threats.
32x faster encryption to protect sensitive data and secure virtual private networks.
2.5 Gbps of secure sockets layer (SSL) deep inspection to deliver the processing power needed to inspect encrypted traffic for malware without performance issues.
Secure boot to allow only approved operating system software to boot up, protecting critical infrastructure against malicious tampering.
Volumetric distributed denial-of-service (DDoS) protection to thwart DDoS attacks.
Virtual extensible LAN (VXLAN)/Generic routing encapsulation (GRE) hardware-accelerated encapsulation to enable secure interconnectivity for distributed networks.
Hardware-accelerated Quality of Service (QoS) to enhance user experience with dedicated QoS for sensitive applications such as videoconferencing.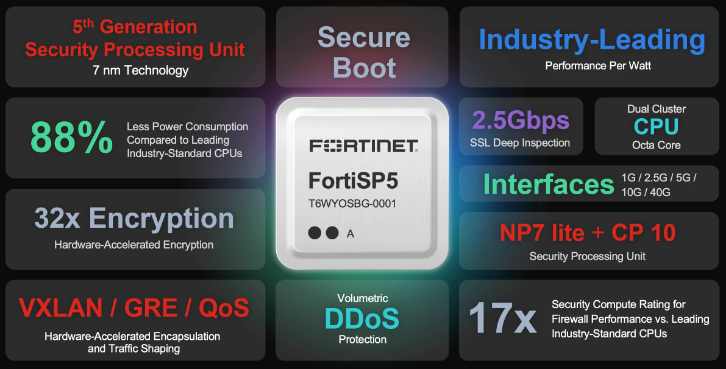 Significant cost and energy savings
As a fifth-generation seven nanometre chip, FortiSP5 packs more capabilities in a smaller form factor to deliver:
88 per cent less power consumption compared to the leading industry-standard CPU
industry-leading performance per watt
industry-leading price-performance.
Supporting more applications to enable important customer use cases
With the ability to accelerate and concurrently run 2x more applications—for example, NGFW, zero-trust network access (ZTNA), software-defined wide area network (SD-WAN), and SSL inspection—compared to the previous generation, FortiSP5 will support use cases such as:
Branch/campus: FortiSP5 ensures the transition to SD-Branch is efficient and cost-effective in a small form factor, enabling IT staff to simplify management and reduce operational expenditure while increasing network uptime. Additionally, as more organisations embrace the cloud and hybrid work model, FortiSP5 will continue to be a driver for secure SD-WAN to empower customers to securely and seamlessly access applications anywhere while delivering consistent user experience with an optimised platform.
Edge compute: As edge computing improves efficiency and cost control through processing close to the edge, FortiSP5 supports high-speed networks and security threat protection for both commercial and operational technology (OT) environments, minimising bottlenecks for traffic movement.
Operational technology: The convergence of IT and OT has opened the infrastructure to increased security risks that can disrupt operations. FortiSP5 enables scalable convergence, securing both OT and IT infrastructures with a single, high-performance platform.
5G: 5G adoption is on the rise in enterprise networks, fuelling innovation at the edge as it provides higher bandwidth and lower latency. FortiSP5 enables a seamless transition to support 5G with an optimised and sustainable platform.
Proven system on a chip technology
FortiSP5 will power the next generation of entry and mid-range FortiGate firewalls being released later this year. Now on its fifth generation, we believe Fortinet's proprietary system on a chip technology has a proven track record of powering the industry's top-performing products and solutions. A few examples include:
Fortinet has been named a Leader in the 2022 Gartner® Magic Quadrant™ for Network Firewalls, (1) marking the thirteenth time Fortinet has been recognised in this Magic Quadrant.
A recent Forrester study (2) highlighted that customers deploying Fortinet's Secure SD-WAN solution, which is backed by FortiGate and security operations centre (SOC) technology, achieved a 300 percent return on investment over three years with a payback period of only eight months.
Fortinet supports sustainability goals
The energy efficiency and performance per watt of FortiSP5 and the products that leverage the chip will help organisations reduce their power and space requirements. Fortinet remains committed to sustainable product innovation to ensure each generation of its products consumes less energy and is built sustainably.
Today, Fortinet's Sunnyvale headquarters is a net-zero emissions facility and plans for global operations to be completely carbon neutral by 2030. Fortinet was recently named to the 2022 Dow Jones Sustainability World and North America Indices as one of the top sustainable companies in the world, highlighting Fortinet's commitment to achieving a sustainable society.
"Enterprise applications and the users and devices that access them are more distributed than ever, which is causing organisations to rethink their edge network and security architectures. A key to enabling enterprise edge networking is having strong security without compromising on network performance and user experience. Fortinet has a 20-year history in ASIC technology that helps achieve these goals, and the company's newest FortiSP5 continues that legacy. Fortinet's portfolio of converged network and security solutions with custom chips helps enterprises accelerate their edge network and security transformation." said Brandon Butler, research manager, enterprise networks, IDC.