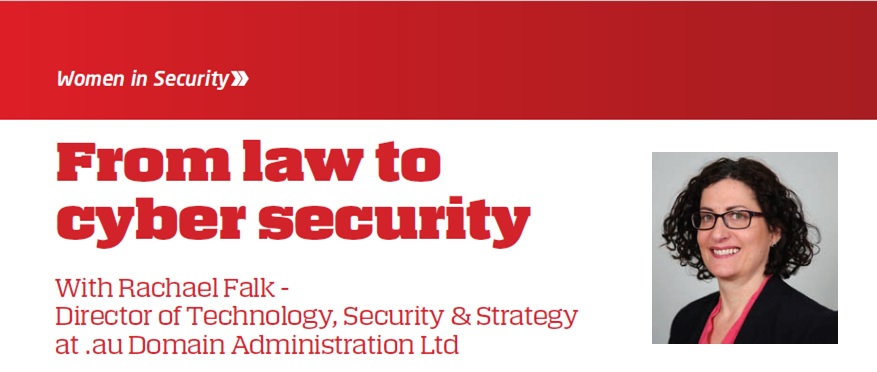 With Rachael Falk – Director of Technology, Security & Strategy at .au Domain Administration Ltd
Rachael practiced as a lawyer in Australian and overseas law firms before commencing with Telstra. Moving from legal to cyber security, Rachael had several roles in Telstra Security Operations, including National Security Advisor. Now in a new executive position, Rachael has a clear remit to shape auDA's role in the cyber security ecosystem both with Australia and internationally.
ASM: How did you get into the security Industry?
I have always liked solving problems and challenges and when I was at Telstra, I became more involved in data breach issues and it became clear to me that cyber security was regarded everywhere as more of an IT problem.
I saw an opportunity to change this and help the business understand that cyber security was a risk that everyone from the board down should understand and manage. So, I was offered a one year secondment from Telstra Legal to Telstra Security Operations and it was a great move. Telstra hired a new CISO in 2013 who had a very strategic approach to cyber security and approached it as a business risk. Since then, I have never looked back.
ASM: How did your current position come about?
The .au Domain Authority (known as auDA) is both the regulator of and manages the .au domain zone and it has gone through a period of transition over the last 12 months. They wanted an innovative approach to security and to play their role in Australia's cyber security eco system.
I had left Telstra and was enjoying a long break but the opportunity to help shape a different cyber security narrative was too hard to refuse…Click HERE to read full interview.