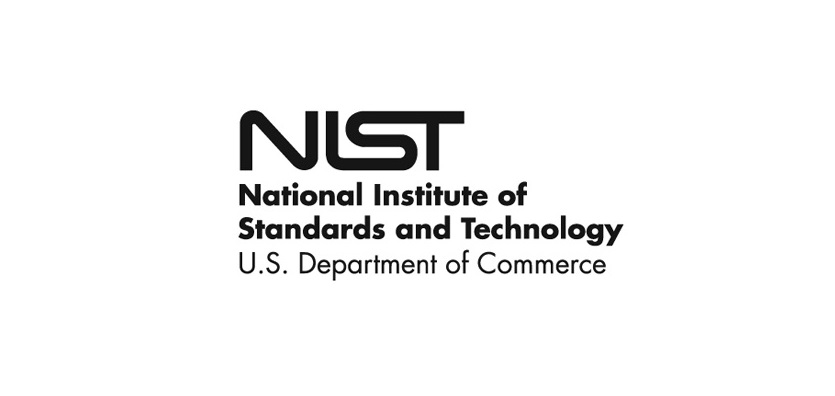 Are you ready for Cybersecurity Career Awareness Week?
National Cybersecurity Career Awareness Week, brought to you by the National Initiative for Cybersecurity Education (NICE), is a week-long campaign to call attention to the contributions to society and innovations introduced by cybersecurity practitioners.
It is a time to build awareness about the wide range of cybersecurity job opportunities, how cybersecurity plays a vital role in the lives of Americans, and how building a national cybersecurity workforce enhances America's national security and promotes economic prosperity.
We're asking members of the NICE community to spread the word by using the hashtags #cybercareerweek or why you love #mycyberjob. By doing so you'll be joining a national movement to elevate and expand the conversation around the positive impact in building the cybersecurity workforce in America.
Here are a few of the special events that have been developed with NICE just for National Cybersecurity Career Awareness Week to help advocate for pursuing a career in cybersecurity. All events are free and open to the public; however, registration may be required.
---
National Cyber Security Alliance (NCSA) and Cybersecurity & Infrastructure Security Agency (CISA) Twitter Chat: Cybersecurity Careers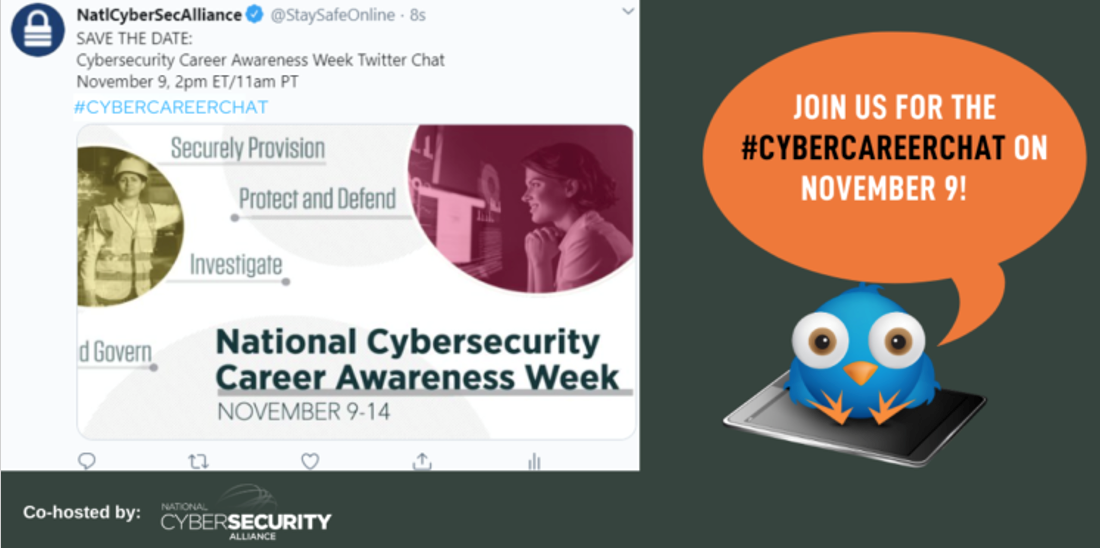 November 10, 2020 | 2:00 – 3:00 pm EST
To celebrate National Cybersecurity Career Awareness Week, the National Cyber Security Alliance (NCSA) and the Cybersecurity and Infrastructure Security Agency (CISA) are co-hosting a Twitter Chat!
NCSA and CISA will be tweeting questions about cybersecurity careers and resources.  Join in the fun! Log onto your twitter account and share your thoughts and answers to their questions to help promote awareness and discovery of cybersecurity careers.
Hashtag: CyberCareerChat
Learn More: https://staysafeonline.org/event/cybercareerchat/
---
Cleveland-Marshall College of Law Webinar: An Inside Look at the State of Cyber Jobs- Privacy and Law Perspective

November 11, 2020 | 12:00 – 1:00 pm EST
The fields of professional services, finance, manufacturing, and defense lead the demand for cybersecurity professionals, with health care and retail among the fastest growing. With the advent of the European Union General Data Protection Regulation in 2018 and the rapidly expanding laws and regulations in the U.S. and globally, cybersecurity and data privacy professionals have never been more in demand.
The Cleveland-Marshall College of Law at Cleveland State University will host a webinar on careers that intersect cybersecurity, privacy, and law. Join Spence Witten, an early innovator in malware detection and insider threat response, and Brian Ray, director of the Center for Cybersecurity and Privacy Protection within the Cleveland-Marshall College of Law, to get an inside look at the exciting cybersecurity work roles in this high demand area.
Save your FREE spot for this informative webinar!
Register: https://onlinelaw.csuohio.edu/webinar-registration-nov-11/
---
CyberUp Webinar: Choose Your Own Adventure in Different Cybersecurity Industry Sectors

November 12, 2020 | 1:00 – 2:00 pm EST
Breaking down false stereotypes in cybersecurity is key to growing the cybersecurity workforce. The perception of a loner guru coder using sophisticated tools and highly technical skills to hack into computers needs to change. Cybersecurity draws from a wide range of backgrounds and expertise. Looking for a broader range of abilities could be the key to tackling the skills shortage.
To support National Cybersecurity Career Awareness Week, CyberUp will host a webinar focusing on the exploration of different cybersecurity opportunities. The webinar will provide a deep dive into different industry sectors people can pursue in cybersecurity and the requirements for entry. Panelists will provide advice on the best ways to get into a preferred sector.
Moderator: Tony Bryan, Executive Director for CyberUp
Panelists:
JD Henry, Department of Homeland Security
Chris Hogan, MasterCard
Col Zachary (Shay) Warakomski, USAF Commander, 375th Communications Group
Renee Small, Recruiter, Cyber Human Capital
Register: https://career-in-cyber.eventbrite.com
---
Cal Poly California Cybersecurity Institute Webinar: Non-technical Cybersecurity Career Opportunities

November 12, 2020 | 2:00 – 3:00 pm EST
Cybersecurity is no longer just a "tech thing." Although cybersecurity companies hire coders and engineers, they also employ a variety of people from other disciplines. Many people with backgrounds in history, communications, education, marketing, sales, and public policy work in cybersecurity. To access these jobs, you need some general training on the concepts of cybersecurity.
During this webinar, you will hear from top-tier professionals in cybersecurity that leveraged their backgrounds in liberal arts in the following fields:
Sales, marketing, business development, and writing
Art, graphic design, and UX design
Human resources, military, and business administration
Legal and accounting
Panelists will provide a roadmap for entering the cybersecurity workforce by upskilling a liberal arts background with cybersecurity skillsets.
---
INFORMATION AND UPDATES
Help make National Cybersecurity Career Awareness Week a success! Visit our website to see what tools and resources you can use to help promote the week-long effort.
For more information, visit nist.gov/nice/nccaw.