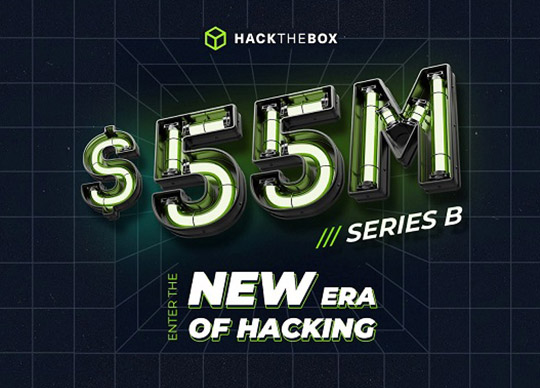 Hack The Box today announced a Series B investment round of $55 million led by Carlyle, alongside Paladin Capital Group, Osage University Partners, Marathon Venture Capital, Brighteye Ventures, and Endeavor Catalyst Fund. Hack The Box says it will also enhance its go-to-market function, doubling down on the company's ongoing international expansion with strong commercial traction in the US, Europe and APAC.
"Our mission is to create and connect cyber-ready humans and organizations through highly engaging hacking experiences that cultivate out-of-the-box thinking. The game in cyber has changed with defensive, reactive and recovery postures not being fit-for-purpose in the face of an ever-increasing and ever-evolving wave of sophisticated attacks. A new proactive offensive & defensive approach is needed to take the fight to cybercriminals rather than waiting to be hit. From individual security professionals to companies, this means adopting a 'hacker mindset', learning to think and act like an attacker. This is the kind of mindset that we cultivate through Hack The Box", highlights Haris Pylarinos, Founder and CEO at Hack The Box.
Constantin Boye, a Director at Carlyle, comments, "The demands on security and IT professionals have never been greater. An industry-wide talent shortage and an exponentially growing number of cyber threats place great importance on professionals and organizations to maintain best-in-class security practices. Hack The Box is a pioneer in constantly providing fresh and curated training and upskilling content, in a fully gamified and intuitive environment, enabling individuals and organizations to tackle real-world hacking problems. We are excited for the next stage of Hack The Box's evolution and are proud to be part of this journey."
Gibb Witham, Senior Vice President at Paladin Capital Group, adds, "With a vibrant community of 1.7 million registered security professionals and enthusiasts, Hack The Box is setting the bar for a new generation of product-led growth companies in the cybersecurity industry. We are thrilled to see Hack The Box becoming a vital partner for enterprises and governments in crafting security teams prepared for cyber attacks."
This Series B funding takes Hack The Box's total amount of capital raised to date to $70 million, fortifying the company's position within the global cybersecurity ecosystem.