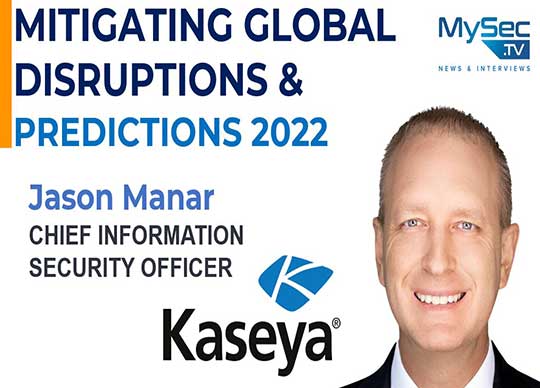 We speak with Jason Manar, Chief Information Security Officer, Kaseya.
In October, 2021, Kaseya announced that it hired Jason Manar as Chief Information Security Officer (CISO). Manar, who was most recently named Assistant Special Agent in Charge for the Federal Bureau of Investigation (FBI) overseeing all cyber, counterintelligence, intelligence and the language service programs for the San Diego office, will play a pivotal role in further solidifying Kaseya's security stance.
Manar will oversee information security and compliance for Kaseya, leading the company's cybersecurity division to identify the industry's latest threats and vulnerabilities and intercept them. Additionally, as CISO, he will ensure compliance with security requirements associated with government regulations, which vary by global region.
Manar first became familiar with Kaseya as the Miami Cybercrime Supervisory Special Agent where he managed all FBI criminal cyber operations within the Southern District of Florida, the Caribbean and Central and South America. Prior to that, he served at FBI headquarters in the Major Crimes Unit combatting cybercriminal threats against the U.S. In that role, he built relationships with key industry partners and was instrumental in the creation of the Microsoft Cybercrime Center. Manar also served as the Safe Streets Gang & Violent Crime Task Force Coordinator for the FBI's Springfield Division investigating drug trafficking organizations, violent crime, cybercrime and transnational organized crime.
Manar graduated from Murray State University with a Bachelor of Science. Prior to joining the FBI, he served six years with the Kentucky State Police as a trooper and detective.