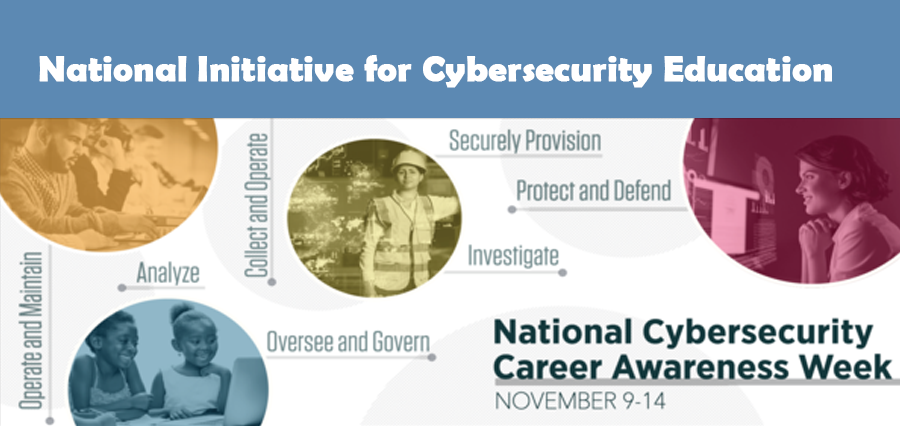 ENGAGEMENT BY NUMBERS

Number of Specialty Webinars (25)
Number of Specialty Competitions (5)
Number of Specialty Training Opportunities (42)
SIX DAY #mycyberjob SOCIAL MEDIA CHALLENGE

Throughout the week share your short videos, pictures, or stories on social media about what you love most about #mycyberjob.
VIRTUAL CYBERSECURITY CAREERS FAMILY NIGHT
Nov. 10 & 12, 6:30PM ETHave you ever wondered what a cybersecurity professional does all day? Grab the popcorn and family and learn about cyber safety and exciting cybersecurity careers.
JOIN THE TWITTER CHAT
Nov. 9, 2:00PM ETLog onto your Twitter account and participate in the #CyberCareerChat to help promote awareness and exploration of cybersecurity careers.
WEBINAR OPTIONS

Recruiting Women to Cybersecurity
Nov. 10, 3:00PM ET
Five "Storytime" sessions with children's book authors
through Nepris
Ten webinars through Nepris on a wide range of
cybersecurity career topics
State of Cyber Jobs – Privacy and Law Perspective
Nov. 11, 12:00PM ET
A Career in Cybersecurity: Choose Your Own Adventure in Different Industry Sectors
Nov. 12, 1:00PM ET
Non-technical Cybersecurity Career Opportunities
Nov. 12, 3:00PM ET
VIRTUAL TOUR AND STUDENT COMPETITION
Nov. 13, 12:00PM ETParticipate in a virtual tour of the 3D immersive competition environment and in a cyberspace challenge mapped to the NICE Framework.
INFORMATION AND UPDATES
Help make National Cybersecurity Career Awareness Week a success! Visit our website to see what tools and resources you can use to help promote the week-long effort to your connection.
For more information, visit nist.gov/nice/nccaw.