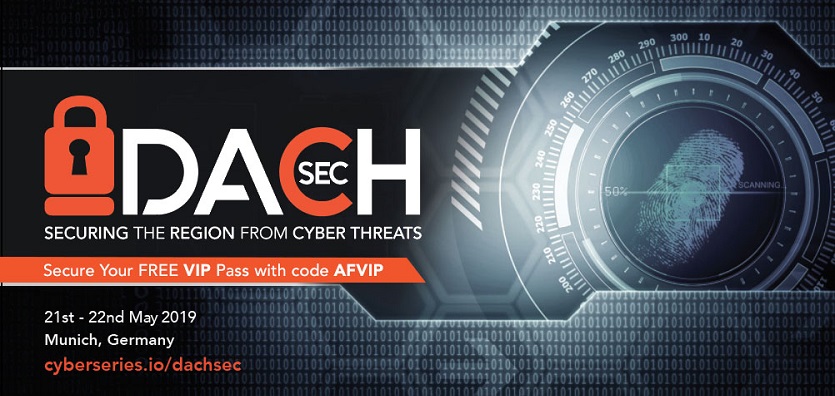 Cyber Security Experts from Germany, Austria & Switzerland Unite to Boost the Region's Digital Resilience
DACHsec , the cyber security summit for the DACH region, takes place in Munich, 21st-22nd of May 2019. This is an exclusive and intimate platform uniting senior professionals from the region's private and public sectors to discuss common cyber security challenges and collaborate in outlining solutions.
2019's agenda boasts real-life case studies, panel debates, group discussions, roundtables and keynote presentations to approach solutions-oriented topics, such as: how to address the cyber security skills shortage challenge; guidelines for data breach recovery; how to secure cloud environments; how to control third-party risks in the supply chain; and gaps and opportunities of legal regulations.
Tailored in partnership with industry experts including the CISO at Jungheinrich, the CTO of Global Security & Privacy at Huawei, the CISO at Vontobel, the Global Head of Security Operations at UBS, and the Head of Cyber Security at Telefonica Germany, DACHsec features sessions like:
D-Day: How To Communicate Your Data Breach The Right Way, a case study by Mehdi Chourib, CISO at Yazaki Europe,
Establishing a Cyber Security Operations Centre, a presentation by Alexandros Manakos, Head of Cyber Security at HSBC Germany,
A Counter-Intelligence Approach to Insider Threats, a presentation by Doron Zimmermann, Head of Security and Safety at PostMail.
Request a brochure for a detailed programme and line-up of speakers.
2-Day passes include: access to the full agenda, a PDF copy of all presentations (post-summit), refreshments during networking sessions & seated lunches, and your CPD certification.
Please, contact cyberseries@qatalystglobal.com if you need any help in registering.
Qatalyst Global is a provider of high-level B2B events around the world aimed at senior professionals working in IIoT and industrial cybersecurity. Based in London, our team works closely with leading professionals, engineers, academics, government, and select vendors to ensure our events are consistently end-user focused and driven by market requirements. For more details, please visit http://qatalystglobal.com/