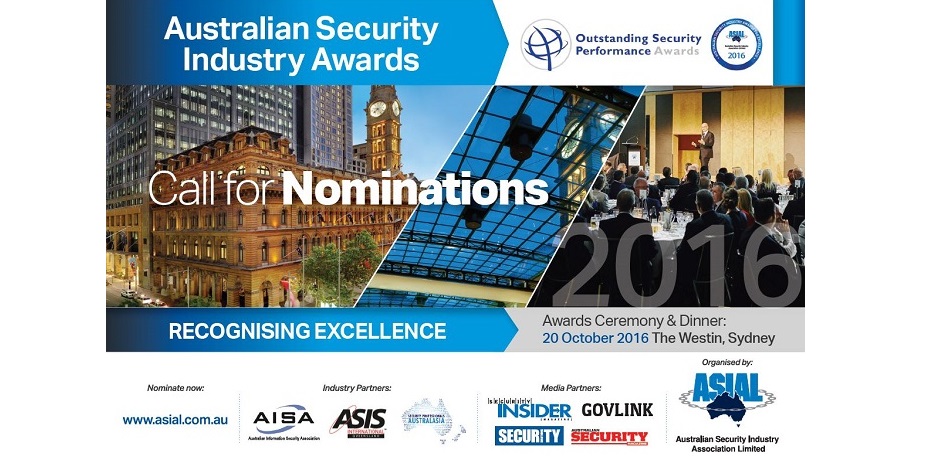 The 21st annual Australian Security Industry Awards for Excellence and 2nd annual Outstanding Security Performance Awards provide a platform for exceptional security companies and individuals to be recognised.
Organised by the Australian Security Industry Association Limited (ASIAL) and World Excellence Awards, the event is designed to be both independent and inclusive, providing an opportunity for outstanding performers, whether buyers or suppliers, to be recognised and their successes to be celebrated.
Over the course of two decades the Australian Security Industry Awards for Excellence has provided recognition for hundreds of Australian security companies and individuals. The event also provides a chance to showcase the outstanding pool of professionals working within the security industry.
For a second successive year, ASIAL will host its awards in collaboration with the Outstanding Security Performance Awards which form part of a global initiative with events in Germany, Norway, Poland, Romania, United Kingdom and United States of America. Once a core number of national OSPAs programmes are established it is World Excellence Awards intention to enter OSPA winners into a worldwide OSPA.
In all countries the aim is to encourage security associations to come together to celebrate excellence and the outstanding performers in their country. In Australia this is no different, with the following industry partners supporting the event.

Nominations will be assessed by an independent panel of judges chaired by an ASIAL representative, who does not vote in selecting a winner. The 2016 judging panel includes:
Damian McMeekin, Head of Group Security, ANZ Bank
Damian joined ANZ in 2005 after working previously in the Australian Department of Foreign Affairs & Trade. He is on the Boards of the International Banking Security Association, International Security Management Association, the not-for-profits iDcare and Australian Security Medals Foundation.
Mark Edmonds, Manager, Security Capability, Sydney Trains
Mark Edmonds has been with Sydney Trains for almost ten years, having previously been the Security Risk Manager for Qantas Airways. He is currently responsible for improving security outcomes in Sydney's rail network though the use of technology and business processes.
Chris Beatson, Director, NSW Police Force – PoliceLink Command
Chris's Command employs approximately 400 personnel, operates 24/7, 356 days of the year, and receives over 32,000 contacts per week. In 2014 Chris was awarded the prestigious International Crime Stoppers '2014 Civilian of the Year Award' in Cape Town South Africa.
Vlado Damjanovski, CCTV Specialist, ViDi Labs Pty Ltd
Vlado Damjanovski is an author, inventor, lecturer and closed circuit television (CCTV) expert based in Sydney, who is well known within the Australian and international CCTV industry. Through his company ViDi Labs he provides consultancy, design & project management, system-commission, product testing, desk-top publishing and training.
John Adams, Editor, Security Electronics Magazine
SEN's editor John Adams has been covering the security industry since 1991, first as editor of Security Australia Magazine, then as editor of Security Electronics & Networks Magazine, first published in 1998. John provides a holistic and historical sense of electronic security technology, as well as considerable exposure in Australia and overseas.
Sean Giddings, Director of Security Operations, Australian Parliament House.
Australian Security Industry Awards for Excellence categories
Individual Achievement – General Security
Individual Achievement – Technical Security
Individual Achievement – Security Student
Gender Diversity
Indigenous Employment
Special Security Event or Project (under $200, 000)
Special Security Event or Project (over $200, 000)
Integrated Security Solution (under $200, 000)
Integrated Security Solution (over $200, 000)
Product of the Year (Alarms, Access Control, CCTV, Communication/Transmission System)
Outstanding Security Performance Awards categories
Outstanding In House Security Team
Outstanding In House Security Manager
Outstanding Contract Security Company (Guarding)
Outstanding Security Consultant
Outstanding Security Training Initiative
Outstanding Security Partnership
Outstanding Investigator
Outstanding Police / Law Enforcement Initiative
Outstanding Risk Management Solution
Outstanding Cyber Security Initiative
Outstanding Female Security Professional
Award nominations are now being accepted via www.asial.com.au. Any company or individual working in the Australian security industry is entitled to enter. You may nominate more than once in multiple categories.
Detailed information on the criteria for each of the award categories along with the conditions of entry can be found at www.asial.com.au.
Awards Ceremony and Dinner
The awards will be presented at The Westin, in Sydney's iconic Martin Place, from 7pm on Thursday 20th October 2016. Media personality James O'Loghlin will emcee the event. You may recognise James O'Loghlin from Good News Week, Rove Live, Sunrise, Lateline, The Evening Show and more than 300 episodes of The New Investors.
For further information on the event visit www.asial.com.au.