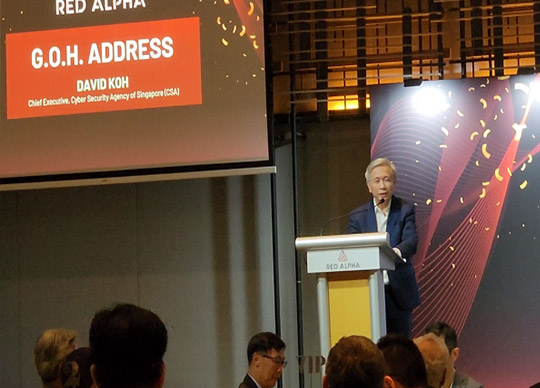 "In order for us to reap the benefits that digitalization provide, we need to get cybersecurity right", said David Koh (Commissioner of Cybersecurity and Chief Executive of The Cyber Security Agency of Singapore), at the Red Alpha Graduation Ceremony on 15th February 2023, where cybersecurity leaders gathered to celebrate the achievements of the latest minted talents in cybersecurity in Singapore.
For sure, digitalisation exposes more of our cyber activities to threat actors to exploit, and often, trust in the security of the technology is an important consideration in adopting digital solutions.
Growing cybersecurity capabilities and capacities is therefore of priority in addressing cybersecurity concerns.
Recognising the demand for talent, Red Alpha – a cybersecurity talent development company – has developed a 40-month "Alpha Specialist Training Programme" – which comprises of a 4-month full-time boot camp and a 3-year industry placement.
The event was an opportunity to congratulate the 12 graduates from the most recent intake for completing the boot camp (as well as the graduates from the previous two intakes during the Covid pandemic).
Having been exposed to a variety of fields within cybersecurity – from incident response, and digital forensics to "red teaming" – the graduates will be spending the next 3 years working full-time at one of Red Alpha's partner organisations.
(These partner firms include companies in the private as well as the public sectors (such as Accenture, Kiteworks, Singapore's Ministry of Defence, SMRT Corporation).
Whilst the evolution of the cyber threat landscape does not pause, the learning does not stop. Trainees will return to the classroom for a week level every six months to learn about the latest developments – in areas ranging from reverse engineering, and vulnerability research to advanced penetration testing techniques.
Interestingly, by offering the training period as salaried opportunities, the programme demonstrates its mission not only to nurture but also to retain talent.
Indeed, testimonials from partner organisations point to how the newly minted talents help "to grow and sustain" their cyber business, and how the professionals "with strong technical skills" are "adding value to the team from day one".
With industry practitioners providing real-world insights and partner organisations offering rigorous hands-on training, the trainees would also have opportunities to build a rich network of mentors and contacts.
In closing, CE Koh's takeaways that "security is a continuous journey" and "communication is key" would no doubt resonate with many in the cybersecurity field.
Cybersecurity professionals well know that, during a cyber crisis, having that list of contacts and network to seek the latest intelligence and exchange best practices makes a huge difference to a "well-managed incident and disaster recovery".
For more information, visit the Red Alpha website. The programme's mission to develop next-generation cybersecurity defenders is open to new graduates as well as mid-career professionals.
Image: David Koh (Commissioner of Cybersecurity and Chief Executive of Cyber Security Agency of Singapore), at the Red Alpha Graduation Ceremony on 15th February 2023.