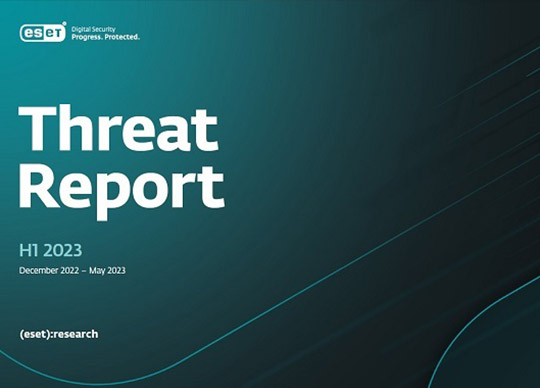 ESET has released its H1 2023 Threat Report, an analysis covering the period from December 2022 to May 2023.
This latest report shines a spotlight on the remarkable adaptability of cybercriminals, their relentless pursuit of new avenues to achieve their nefarious goals, and the challenges faced by security professionals in combating these threats.
Key findings:
Sextortion scams and phishing have seen a resurgence in H1 2023, with a significant increase in DOC/Fraud detections. Sextortion scams involve fraudsters threatening victims with revealing sensitive information unless a ransom is paid.
Predatory lending practices have found new ground on Android, where malicious loan apps threaten victims with death threats and digital usury practices.
Despite bitcoin's comeback, cryptocurrency threat detections have been falling in H1 2023, indicating a decline in cryptocurrency threats. However, cybercriminals continue to incorporate cryptocurrency-related capabilities into malware.
The Emotet botnet, once notorious, has seen its campaigns shrink as operators struggle to find new attack vectors. They have resorted to low-impact campaigns in H1 2023.
Malicious actors have been testing OneNote files as a new intrusion vector, using them to spread malware. However, the effectiveness of this vector may decrease in the future.
Microsoft SQL Server has become an attractive target for brute-force attacks, and the Log4Shell vulnerability has seen endemic growth.
The macOS platform experienced the first case of two linked supply-chain attacks, compromising a significant number of devices.
Leaked source code has led to the emergence of new ransomware variants, increasing the effectiveness of preexisting detections against emerging malware.
You can read the full report here.