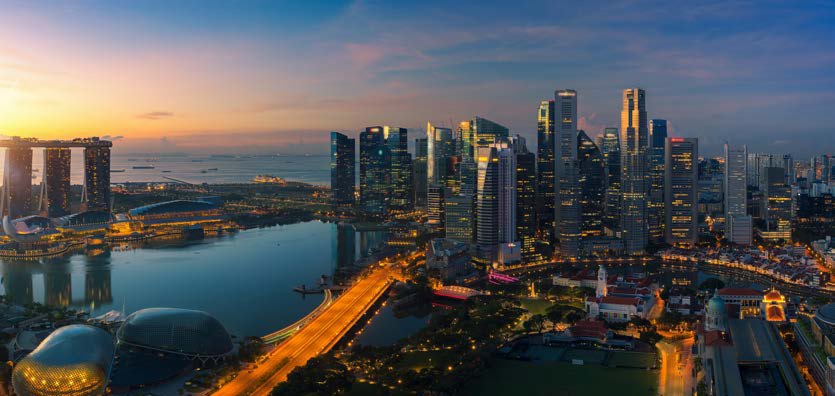 The fifth edition of the Singapore International Cyber Week (SICW), the region's most established cybersecurity event, successfully concluded with more than 6,000 participants from across 60 countries. This was Singapore's first hybrid MICE event held in a physical-virtual format at the Sands Expo & Convention Centre from 5 to 9 October 2020. Organised by the Cyber Security Agency of Singapore (CSA), SICW 2020 featured 138 speakers from across governments, industry and academia.
SICW 2020 brought together political leaders, policy makers and thought leaders from around the world to discuss cybersecurity-related policy issues and geopolitical challenges. Singapore, as well as our regional and international partners, recognise that cybersecurity is a key enabler of a Digital Economy, as well as the importance of a rules-based multilateral order in cyberspace, especially amid accelerated digitalisation in the wake of COVID-19. This year, Singapore and ASEAN Member States reiterated our collective commitment to take practical steps to enhance the level of cybersecurity in the region. Minister for Communications and Information and Minister-in-charge of Cybersecurity Mr S Iswaran and United Nations (UN) Under-Secretary-General (USG) and High Representative for Disarmament Affairs Ms Izumi Nakamitsu also jointly announced our cooperation with the UN to develop a Norms Implementation Checklist. The Checklist outlines a list of steps that countries need to take to implement the 11 voluntary norms of responsible state behaviour in the 2015 United Nations Groups of Governmental Experts (UNGGE) consensus report.
Key announcements at SICW 2020 were:
Launch of Singapore's Safer Cyberspace Masterplan 2020 by Deputy Prime Minister Heng Swee Keat. The Masterplan outlines the Government's blueprint to create a safer and more secure cyberspace in Singapore. Developed in consultation with industry and academic partners, it aims to raise the general level of cybersecurity for individuals, communities, enterprises, and organisations. The Masterplan comprises three strategic thrusts: securing our core digital infrastructure; safeguarding our cyberspace activities; and empowering our cyber-savvy population.
Launch of the Cybersecurity Labelling Scheme (CLS) for consumer smart devices, as part of our efforts to improve Internet of Things (IoT) security, raise overall cyber hygiene levels and better secure Singapore's cyberspace. A first of its kind in the Asia-Pacific region, the CLS scheme will see smart devices rated according to their levels of cybersecurity provisions. This will enable consumers to identify products with better cybersecurity provisions and make informed decisions. For a start, CSA will introduce the CLS to Wi-Fi routers and smart home hubs, and will progressively include other IoT devices, including web cameras.
Establishment of the Operational Technology Cybersecurity Expert Panel (OTCEP) to enhance the cyber resilience of Singapore's Operational Technology (OT) sector. Comprising local and international OT cybersecurity experts, the OTCEP will discuss key global OT technologies and emerging trends and recommend best practices to address cybersecurity challenges and gaps. They will also share insights, based on their experience in handling global cybersecurity incidents, with incident response teams from the Government, Critical Information Infrastructure sectors and industry stakeholders in Singapore. The first OTCEP meeting is scheduled in the first half of 2021.
Launch of a joint second grant call with Tel Aviv University under the National Cybersecurity R&D (NCR) Programme. Open to all researchers from Institutes of Higher Learning and Research Institutes, the grant call aims to build upon ongoing research collaboration in areas such as security of smart cities and IoT, behavioural studies and social science of cybersecurity, and policy and governance of cybersecurity. In addition, the management of the NCR Programme will be transferred from the National Research Foundation (NRF) to CSA by March 2021. NRF has also appointed CSA as the Implementing Agency for cybersecurity R&D. This will allow CSA, as the domain lead agency for cybersecurity, to better coordinate the entire cybersecurity R&D and innovation process, as well as achieve greater synergies between government agencies, industry and research partners.