Company Taps Former Nimble Storage Executive to Lead Focus on Cyber Exposure
Tenable has announced the appointment of Bede Hackney as country manager for Australia and New Zealand (ANZ).
Based in Sydney, Hackney is responsible for further expanding the company's ANZ presence in the enterprise security market and supporting new channel partner initiatives.  This senior executive appointment comes at a time when Tenable sets out to accelerate momentum for Cyber Exposure, an emerging discipline for managing and measuring the modern attack surface to accurately understand and reduce cyber risk.
"We are delighted that Bede has joined Tenable to head up our Australian and New Zealand business.  His skillset and experience of working in both growth companies and large multinationals will be invaluable as we drive our revenue growth and focus on positioning Tenable as the industry's first Cyber Exposure company to manage, measure and reduce Cyber Exposure across today's evolving modern attack surface, a complex mix of ever–changing connected devices, services and computing platforms," said Gary Jackson, vice president APAC, Tenable.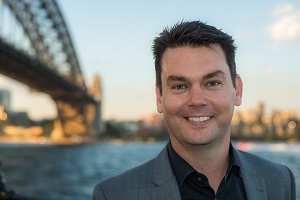 Hackney joins Tenable with 25 years' experience in the IT industry and was previously ANZ Managing Director at Nimble Storage.  During this time, he propelled regional sales and oversaw the growth of the company's channel partner network in support of momentum for its range of storage solutions.
He was previously Director of Product Sales at VMware where he managed a sales team focused on the software designed data centre and end user computing business across Australia and New Zealand.  In addition, he worked for Citrix in several senior strategic management roles over a period of seven years, including as Director of Product Sales for Australia/New Zealand and Sales Manager for Application Networking.  He was also previously ANZ Country Manager for Packeteer.
"I am delighted to join Tenable at this critical juncture in the IT security industry when organisations of all sizes are embracing digital transformation with a resulting explosion of new platforms, devices and approaches. Tenable has a market-winning product portfolio, developed by the best individuals in the security industry, that positions organisations to accurately understand and reduce their cyber risk.  This is an exciting combination that will further strengthen our market leadership in the ANZ region.
"At the same time, I'm looking forward to evangelising the benefits of our Tenable.io solution, the first Cyber Exposure platform to provide live visibility into any asset on any computing platform.  It provides Tenable with an opportunity to reap explosive growth in the years ahead in supporting end user dynamic assets like cloud and containers."
Last month, Tenable announced it had enhanced the performance of Tenable.io in Australia with the creation of a local Amazon Web Services (AWS) instance enabling the company to better serve and accommodate its growing local customer base.
In addition, the company also recently announced the launch of Tenable Assure that helps partners to build long-term, consultative relationships with customers, helping them translate raw security data into a metrics-driven program where every business decision factors in Cyber Exposure.   Tenable Assure also includes the company's first-ever managed security service provider (MSSP) program designed to provide customers with the flexibility of choosing strategic, cost-effective solutions and custom services to help them address how to manage, measure and reduce their Cyber Exposure.
In 2016, Tenable's billings in Australia and New Zealand grew over 80 percent, while new enterprise deals doubled across the Asia Pacific region compared to 2015.
About Tenable
Tenable Inc. is the Cyber Exposure company. Over 23,000 organisations of all sizes around the globe rely on Tenable to manage and measure their modern attack surface to accurately understand and reduce cyber risk. As the creator of Nessus, Tenable built its platform from the ground up to deeply understand assets, networks and vulnerabilities, extending this knowledge and expertise into Tenable.io to deliver the world's first platform to provide live visibility into any asset on any computing platform. Tenable customers include more than 50 percent of the Fortune 500, large government agencies and mid-sized organisations across the private and public sectors. Learn more at tenable.com.