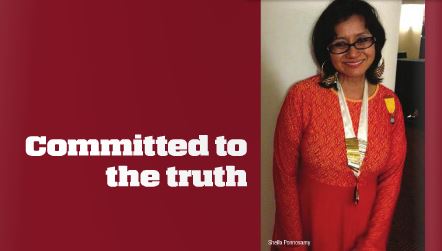 By Kema Rajandran
Sheila Ponnosamy made history last September by being the first Asian woman to be elected president of the Council of International Investigators (CII), a US-based association that brings together more than 300 members from over 50 countries that network, share resources and refer work to each other all with an emphasis on quality.
As Operations Director at Mainguard International, this 43-year-old Peranakan Indian woman may have had her destiny set out for her long before she was born.
Daughter of Mr Ponnosamy Kalastree, a well known Singaporean investigator and security expert and Mrs Dora Kalastree, also a private investigator, both of whom have been in the field for over 40 years, it would be safe to say that it was only a matter of time before Ms Ponnosamy gravitated towards private investigations.
With a Double Major in Management and Marketing and a Masters Degree in Business Administration, Ponnosamy worked as a conference producer in Perth for 10 years before returning to Singapore and becoming part of the investigations business.
"This happened by chance as I was helping dad prepare an investigations report. He realised then that I had an interest and aptitude for the work so he gave me an opportunity to move to the investigations side of the business," Ms Ponnosamy said.
"Fortunately, I think we share the same passion for investigations so I don't feel like I was being forced to be in the investigations industry."
Passion isn't all they share, Ms Ponnosamy and her father clearly possess the right skills to pursue and solve cases as well as network and lead in their field. Mr Kalastree, who won CII's International Investigator of the Year in 1998, became the Council's President in 2001. Nine year's later he would witness his daughter win the same award for her investigation into an international human trafficking case.
"I was very surprised to win the award. I do hope it was my father's proudest moment."
"It was a 10 year investigation and the case was referred to me as the Subject of investigations was last spotted in Malaysia."
The subject was a woman with dual US and French citizenship who had disappeared from a healthcare facility in France with an Egyptian man. Her American mother had been trying to track her down for 10 years.
Ms Ponnosmay was contacted in 2009 when the subject was traced to Malaysia. The woman was seemingly in good health but emotionally unstable and thought to be aggressive when approached.
But it wasn't just Ms Ponnosamy's extensive investigative skills that helped her solve this case; her determination and passion also played a crucial part.
"The case went pro bono as the client ran out of money so I worked on it in my own time for a year until the case was closed. I do attribute it to a lucky break though."
"Finally we located the subject and due to my efforts at persuading her "kidnapper" – she already had Stockholm syndrome – he put her on a flight back to the USA. I did not expect him to, but for me, anything is worth a shot, if you never try, you never know!"
And it's this 'trying' attitude that has seen Ms Ponnosamy's career flourish in a male dominated industry.
"Honestly, I do not really think too much about being a woman and being Asian, though of course, most investigators especially in Asia are men."
As my work is focussed in the Asia-Pacific region, I do tend to be able to provide more input from an Asian perspective."
Living and working between her two homes in Perth and Singapore, she says while it is a bit of a 'Boy's Club' she doesn't worry too much about building a profile or climbing the ranks, instead she just does her work.
"It is more important to me to serve my clients' needs as they are paying for our service."
Mainguard International's clientele are mainly from USA and Europe resulting in plenty of challenges for the team based in Asia where most of the work is done.
"A lot of information is public in the USA and for them a due diligence is database checks. In Asia, I always encourage them to do ground work too as our databases are not always accurate, updated and accessible."
As Operations Director, Ms Ponnosamy is involved from beginning to end of each case. She manages everything from the tasks that need to be undertaken, how to retrieve the information, she reviews all the information and then presents it to the client.
"What I enjoy most is being involved in the case from A to Z. I secure the business as I serve as the client liaison."
Ms Ponnosamy's involvement is exhaustive. For those wanting to move into private investigation be prepared for very long hours and sacrificing weekends with your family and friends. And don't dream of becoming rich, it isn't an industry that will rake in the dollars quickly.
"I am blessed to have a supportive husband that knows my passion for the business. We have a similar work ethic so, we motivate each other with our time management schedules and he helps me with the domestic chores."
But don't let all the hard work and limitations of being a millionaire put you off; private investigations really is as interesting and varied as it looks on TV, albeit without the glamour.
"Every case that you get is different. Hence is it never boring. Every case has different requirements and you are constantly stimulated in your work," she says.
"There are so many cases in the past 15 years that do stand out. Too many to mention but some of them briefly:
Locating US singer-actress, Leandra Ramm's cyberstalker
Working undercover as a fashion buyer in Indonesia to get legal evidence in a breach of contract case
Researching counterfeit cigarettes and locating the factory in Indonesia
Getting thrown out of an offshore bank in Singapore (I needed to proved that the bank was defrauding its customers and being unco-operative)
A missing persons case where a wife from Thailand turns out to be married to another man in Singapore and using a different identity
Finding people alive after they have been certified dead in several countries in Asia in insurance investigations cases."
So what's next for this hard working, ambitious, self-confessed lover of crime thriller novels?
"Hopefully I can do a PhD in my later years and if I do, I'd like to focus on the role of private investigations in combating hideous crimes such as human trafficking."
For now she is happy thriving in her role at Mainguard International and loves working with her parents. The combination of qualities they each bring to the table is evidently successful for the company that was established 30 years ago in Singapore.
"We definitely need new and young blood in the investigations industry. To survive, you need to have an interest in the type of work – a desire to unearth the truth."